Back to the Global Trivia Challenge Tournaments
---
The Global Trivia Challenge!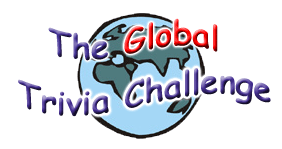 Welcome to The Global Trivia Challenge, a game where thousands of players from around the world compete for fun, knowledge, and bragging rights. We run 19 category games and 4 special topics every 12 hours. Whether you want to play by yourself, against a group of friends, for fun, competition, or for education, you have come to the right place.

Each player may play 6 category games or special topics each 12 hour period (5 categories, plus Impossible!). As you accumulate points, you will graduate to new divisions. As you beat other players your Trivia Rating will change to reflect where you rank in our community!

Participation in The Global Trivia Challenge is completely free. However, some very cool features are available exclusively for our gold members, and we encourage you to sign up for this package if you enjoy your stay here at FunTrivia.
Teams
While competing against thousands of people from around the world is a lot of fun, it is even more enjoyable to compete and compare with friends, family, and co-workers. FunTrivia provides you with a way of creating a team, inviting friends, and then comparing scores with them. See who can be the first to get to Division 5, or see who can maintain the highest average score. Team members can also share quizzes they create and chat on a private message board.
The Divisions
All FunTrivia players begin in Division 1: The Newbies. As you score advancement points and play games you will progress through the division until you graduate to the next division.

Advancement points are based on how many questions you get correct, modified by a time penalty. A small advancement point bonus is given if you play in categories marked "*" ("Adventure Bonus"). A larger advancement point bonus is given if you play categories marked (**) ("Special Topic Bonus"), because special topics will tend to be specific and more difficult than the mixed question sets.

Each successive division will bring you more questions and a higher difficulty level for all questions. You will also be scored against players in your division, representing those of similar ability and frequency of play. Note that progression through the divisions is based on how well you perform individually. Comparisons to other players is just for interest and competition. Where you place and the number of wins you have does not matter to your progress through the divisions.

It will take you a lot longer to move up divisions as you progress. We suspect that in the end we will end up with a small number of players battling it out in Division 10

Your Division Status:

| | | | |
| --- | --- | --- | --- |
| Name | Difficulty | # of Questions | Your Progress |
| Division 1: (1) The Newbies | Fairly Easy | 18,000 | 0% |
| Division 2: (2) The Graduates | Not Too Hard | 37,000 | 0% |
| Division 3: (3) The Bright Bulbs | Moderate | 62,000 | 0% |
| Division 4: (4) The Marvelous Minds | Average | 96,000 | 0% |
| Division 5: (5) The Nimble Noggins | Tough | 130,000 | 0% |
| Division 6: (6) The Smartypants | Difficult | 160,000 | 0% |
| Division 7: (7) The Brainiacs | More Difficult | 200,000 | 0% |
| Division 8: (8) The Newtonian Club | Very Difficult | 250,000 | 0% |
| Division 9: (9) The Geniuses | Very Tricky | 330,000 | 0% |
| Division 10: (10) The Immortals | Ridiculously Hard! | 480,000 | 0% |
What is Hardcore Mode?
Hardcore mode is a mode that you can enable here. It is designed to give our more experienced players new challenges. It is far more difficult to advance, and you are restricted in what categories you can play. Try this only if you're looking for a difficult challenge! More details about hardcore mode can be found here.
When Does the Challenge End?
The challenge will run until at least 30 players reach Division 10: The Immortals. This will take approximately 6 months. At that point our top players will be placed in the Hall of Fame. The top 30 players with most advancement in Immortals will then be ordered by their player rating to determine the ultimate champions.
How do I start?
Have fun!
Terry
Founder, FunTrivia.com