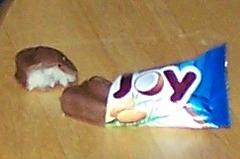 Group Number:
33146,
Team Leader:
RufusDufus

There are
106
members.
3
are considered active.
Smooth Chocolate, sweet coconut, and just plain nuts! That is THE JOY! What brings you joy? Come share your joy with us! Joyful, joyous, and a little nutty!

Seen over the last 24 Hours:
RAILRD
---
Ranked #52 in
League D
last month.
---

This group is currently set as
invite only
. You can join this group by requesting the group number or receiving a group invitation from any existing member.