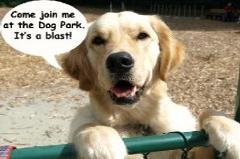 Group Number:
3646,
Team Leader:
ghosttowner

There are
10
members.
9
are considered active.
What could be more fun than a Dog Park? Friends meet friends every day to romp and play. Occasionally, a new member joins the group - that only adds to the enjoyment and mutual successes. In our Dog Park we are a close knit group of friends seeking to rise to the top of team trivia while getting to know and encourage each other and have fun doing it. We are always willing to have new people join us if they have the desire and ability to actively participate in the team games. As any dog will tell you, it is fun to play at the Dog Park! We are always happy to have new members who would be dedicated team players! Just PM the group leader asking for an invitation!

Seen over the last 24 Hours:
jim_boy_01
,
ghosttowner
,
frosty123
,
cowboybluedog
,
coondog1
,
goomba1
,
kalor
,
L_A_Best
,
HBSpud
---
Ranked #11 in
League C
last month.
---

This group is currently set as
invite only
. You can join this group by requesting the group number or receiving a group invitation from any existing member.